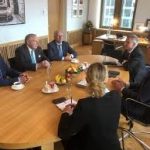 The Dutch Minister of Justice has ordered an investigation into potential malpractices during a number of adoptions in which the Dutch government played a role.
On Monday 15 July we had a two-hour meeting with that Investigative Commission on Intercountry Adoption in the Past. That's to say, with its project leader and secretary.
This Commission started its work on 1 May 2019 and are still in the preparatory phase of finding the best way on how to respond to the outstanding questions of all involved.
Their report is to be expected around October next year.
The Commission members, and their team, have no knowledge about intercountry adoptions. They start from scratch.
The UAI repeated their points of view:
– The period to be investigated should not be limited to 1968 – 1998, when the Hague Adoption Convention entered into force in the Netherlands
– The countries should not be limited to Bangladesh, Brazil, Colombia, Indonesia and Sri Lanka
– The investigative team should include an independent expert, Roelie Post
We also underlined that the Hague Adoption System clearly does not guarantee child rights.
We informed them about the dramatic case of forced intercountry adoption ongoing in Romania. And that as adoptees we stand united for this girl named Sorina. We consider this case to be the final proof of the systemic failure of the Hague Adoption Convention.
At their request, we provided them with the UAI letters from 2017 and 2019: